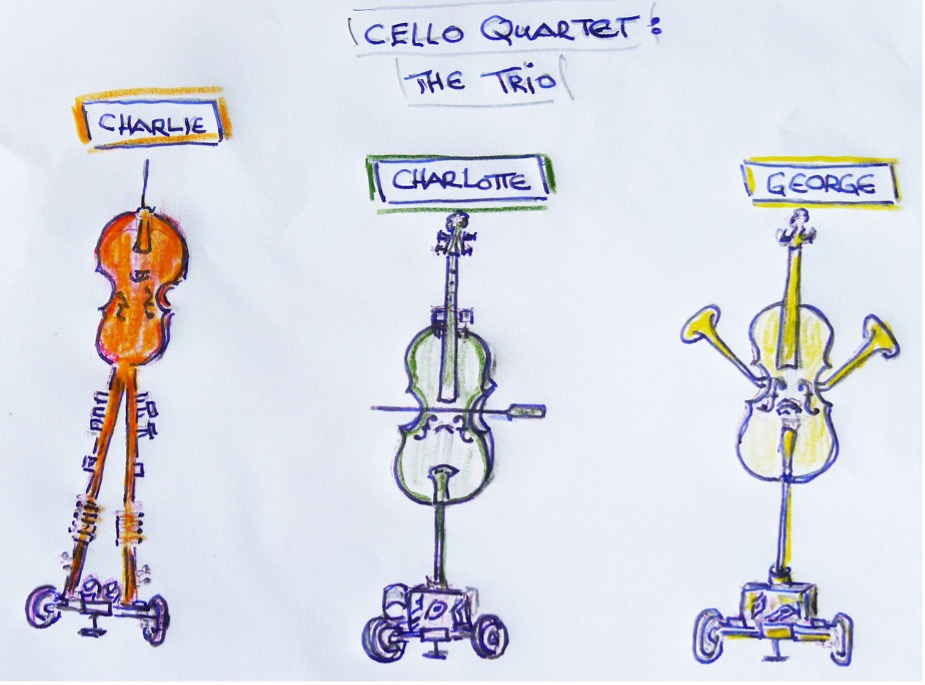 The Cello Quartet: Trimpin
Other Minds is is proud to announce that it has been selected by the William & Flora Hewlett Foundation as one of 10 recipients of the Foundation's prestigious Hewlett 50 Arts Commissions awards in the category of media arts. Other Minds will partner with visionary Seattle-based media artist Trimpin to commission an evening-length interdisciplinary work combining music composition, dance, robotics, artificial intelligence, and more.
The piece, tentatively titled The Cello Quartet, will feature three autonomous cellos perched atop moving platforms. The word "cello" here hardly describes these sculptures, which will function both as instruments and dancers. A human cellist, also sitting on a moving platform and performed by Seattle's Lori Goldston, will round out the quartet while a group of dancers, choreographed by the Bay Area's Margaret Fisher, will interact with the moving instruments affecting their course through wireless depth cameras embedded into the instruments.
"The ingenuity and brilliance of Trimpin was apparent to audiences in San Francisco from the moment he performed at our first Other Minds Festival in 1993 at the grand opening of the Yerba Buena Center," says OM Executive & Artistic Director Charles Amirkhanian, "You won't have to be an experimental music fan to be thrilled by his robotic cellos that will play themselves while moving about onstage. Especially when one of them saws itself in half."
While the premiere of his work is still a couple years off, we can't wait to get to work with Trimpin and help him realize his singular vision. We wish to extend our sincere gratitude to the William & Flora Hewlett Foundation whose guidance and support over nearly 30 years has helped Other Minds to champion the work of a growing international community of brilliant artists.
Read the announcement on the Hewlett Foundation's website.
The Cello Quartet Diagrams
Trimpin is a sound sculptor, composer, engineer, and inventor. A specialist in interfacing computers with traditional instruments, he has developed ways of playing instruments ranging from giant marimbas to stacks of electric guitars via computer. His work integrates sculpture sound, and live performance. Born in Germany near the Black Forest, Trimpin spent several years living and studying in Berlin, working as a set designer and collaborating with artists from both Germany and the United States. He relocated to the United States in 1979.